Strengthens informal business in the amid of covid pandemic (Thailand)
HomeNet Thailand Brand – Thailand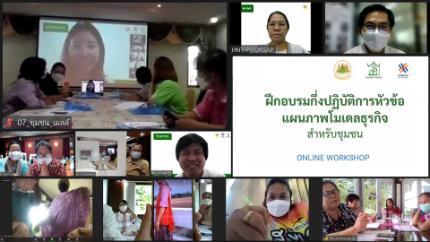 Social Solidarity Economy entity description:
HomeNet Thailand Brand strengthens informal business in the amid of global trade and covid pandemic.The organization is based in Bangkok, Thailand.
The beneficiaries of the initiative are informal workers and members of HomeNetPeople (all women)
HomeNet Thailand is a member of the Asian Solidarity Economy Council
Covid-19 context
Informal workers in Thailand have no social welfare and supporting from the state agencies, as well as invisible in the society. Their working conditions rely only on daily base which make them more vulnerable because income and quality of life in the workplace depend on occasion of the day.
Global trading threatens Thai's business especially because Chinese products are sold at extremely low prices. As a result, Thai's products can't compete.
COVID-19 situation doubles the impact since the activity in public space has decreased.
General description of the Social Solidarity Economy initiative:
Homenet Thailand Association, which is composed of its own accounts and homeworkers, collaborated to establish HomeNet Thailand Brand as an informal social enterprise.
Investment fund is raised among members for product development, create marketing channels and increase competitiveness of members. Most of the products are handicrafts.
In addition to helping with product development, HomeNet Thailand Brand educates in women's rights and intersectionality in women. Women homebased workers must earn money to take care of their families and are frequently paid less because employers believe that working from home is cost-free. In fact, many women workers in the group are family breadwinners and when they work at home, they have to bear the burden of shipping as well
Key actions / activities:
We trained and developed our members' skills on digital technology, matching and connecting provincial producers with processors groups and retailers in Bangkok
Key partners:
Members of HomeNet
Main results and impact:
• Increase members literacy on digital market
• Continuous communication platform from members to members, and from members to customers
• Maintain members business