Enterprise, Deprivation and Social Exclusion The Role of Small Business in Addressing Social and Economic Inequalities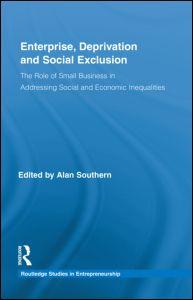 There is little doubt that in recent years, enterprise has been considered an essential approach in the alleviation of deprivation existing in the developed world. The assumption is that area-based initiatives provide a means by which enterprise can include all members of society in mainstream social and economic activities. The rationale behind Enterprise, Deprivation and Social Exclusion is to critically challenge the notion that enterprise can address the complexity behind deprivation and social exclusion by demonstrating UK and North American examples.
We see how enterprise has come to be regarded as a means by which poverty can be reduced and new opportunities can be opened up to support individuals. However, the authors here seek to give a greater appreciation to the structural roots of deprivation and pose questions about whether or not enterprise might actually exacerbate structures of social and economic exclusion. What if enterprise actually maintains differences between types of community and keeps individuals entrenched in certain ways of thinking? The contributions in this edited collection will offer a distinct opportunity in respect of both theoretical and empirical advancement. The authors hale from both sides of the Atlantic and form an inter-disciplinary group to provide complementary perspectives in this field.