Using Timebanking In The Time of Covid-19
Solidarity Chicago - The Kola Nut cooperative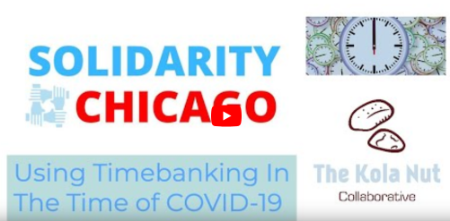 The video : 1:45:10
What is timebanking? What are the historical roots of time exchange? How can timebanking be employed as a strategy to strengthen ties within communities? How is timebanking related to other cooperative and collaborative economic practices? How can timebanking embed within existing informal neighborhood economies?
Timebanking activates hidden social capital within our communities by identifying and engaging individual human assets. This workshop will provide an introduction to the practice and principles of timebanking, and how it can be deployed to support mutual aid efforts during this crisis. Timebanking offers a toolkit for extending our local networks into a citywide collaborative platform which encourages community participation.
Using Timebanking in the Time of Covid-19 is part of a series of online meetings hosted by Solidarity Chicago to elevate cooperative economics, mutual aid, and other solidarity economy tools that communities are using to support one another through the pandemic. Through this series, Solidarity Chicago will both explore strategies to navigate this collective experience of change and loss while also setting the stage for a new economic paradigm centering the needs of marginalized people, Black and brown communities, and the sustainability of Mother Earth.
*Originally broadcast on April 20, 2020 at 4 pm