Youth Reinventing Co-operatives Young. Perspectives on the International Cooperative Movement.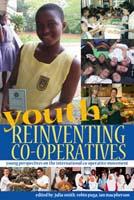 Youth Reinventing Co-operatives explores the ways youth think about and use co-operatives to meet their economic and social needs.
· Part I: Considering Co-operatives
· Part II: Youth Developing Co-operatives
· Part III: Encouraging Youth Involvement in Co-operatives
· Part IV: Conclusions and Recommendations
The book features 40 reflections by young people (and a few recalling more youthful days) considering what co-operatives mean for them and could mean for others. It provides over forty case studies on co-operatives in Africa, Asia, Europe, Latin America and North America in which young people play important roles; in many instances operating the co-operatives. The book concludes with a series of recommendations about how young people may learn about, and more effectively use, the co-operative model as they seek to shape the world in which they live.