Yes! Magazine Winter 2018 issue, Solidarity: How to Build Joyful Economies.
AA.VV., Yes! Magazine, United States, November 2017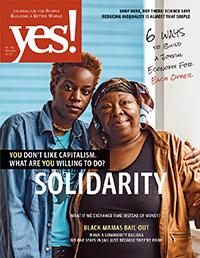 As capitalism continues to enrich the wealthiest at the expense of everyone else, it's easy to feel defeated. But there are other stories to tell—the stories of communities full of generous people who are finding ways to lift each other up. In this issue you'll learn how to build solidarity economies based on joy. From how we shop to how we build our homes and livelihoods, we can help bring justice—and joy—to others.