Eco-Sufficiency and Global Justice : Women write political ecology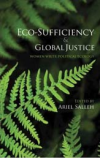 Commendations Vandana Shiva, Foundation for Science, Technology & Ecology, New Delhi Richard Norgaard, Professor of Energy and Resources, UC Berkeley Peter Dickens, Cambridge University, author of Society & Nature Lim Li Ching, Third World Network, Kuala Lumpur
As the twenty-first century faces a crisis of democracy and sustainability, this book brings academics and alternative globalisation activists into conversation. Through studies of neoliberalism, ecological debt, climate change, and the ongoing devaluation of reproductive and subsistence labour, these uncompromising essays by internationally distinguished women thinkers expose the limits of current scholarship in political economy, ecological economics, and sustainability science.
With in-depth analyses of climate change, MDGs, financial meltdown, and new theoretical concepts for understanding humanity-nature links, the essays reveal the workings of an invisible but sustaining 'meta-industrial economy', an understanding of which is critical for social and environmental justice to be achieved.
The book is a must read for anyone committed to building alternatives and will be indispensable to students of political economy, ethics, global studies, sociology, women's studies, and geography.
Contents
1 - Ecological Debt : Embodied Debt Ariel Salleh
PART I - HISTORIES
Extract : Veronika Bennholdt Thomsen and Maria Mies, The Subsistence Perspective
2 - The Devaluation of Women's Labour Silvia Federici
3 - Who is the 'He' of He Who Decides in Economic Discourse ? Ewa Charkiewicz
4 - The Diversity Matrix : Relationship and Complexity Susan Hawthorne
PART II - MATTER
Extract : Carolyn Merchant, Earthcare
5 - Development for Some is Violence for Others Nalini Nayak
6 - Nuclearised Bodies and Militarised Space Zohl de Ishtar
7 - Women and Deliberative Water Management Andrea Moraes and Ellie Perkins
PART III - GOVERNANCE
Extract : Hilkka Pietila, 'Ontological Presuppositions'
8 - Mainstreaming Trade and Millennium Development Goals ? Gig Francisco and Peggy Antrobus
9 - Policy and the Measure of Woman Marilyn Waring
10 - Feminist Ecological Economics in Theory and Practice Sabine U. O'Hara
PART IV - ENERGY
Extract : Teresa Brennan, Exhausting Modernity
11 - Who Pays for Kyoto Protocol ? Selling Oxygen and Selling Sex Ana Isla
12 - How Global Warming is Gendered Meike Spitzner
13 - Women and the Abuja Declaration for Energy Sovereignty Leigh Brownhill and Terisa E. Turner
PART V - MOVEMENT
Extract : Vandana Shiva, Earth Democracy
14 Ecofeminist Political Economy and the Politics of Money Mary Mellor
15 - Saving Women : Saving the Commons
16 - From Eco-Sufficiency to Global Justice Ariel Salleh