Solidarity Economy : building alternatives for People and Planet
A compilation of papers and reports from the US Social Forum 2007.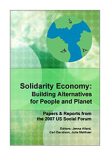 The emergence of the global grassroots economic structural reform movement known as the Solidarity Economy. This book contain the core papers, discussion and debates on the topic at the U.S. Social Forum of 10,000 people in Atlanta in the summer of 2007.