Videos Commons-based Collaborative Economies Procomuns 2017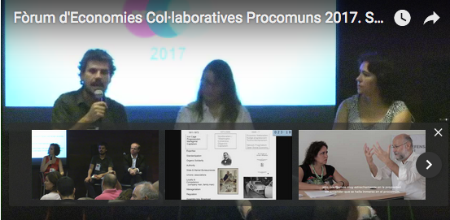 Several videos here:
Institutional opening and Opening talk "Commons versus neoliberalism: From an oligarchic economy to the open social economy"
Jordi Via (Commissioned Social and Solidarity Economy, Barcelona City Council), Sara Berbel (Director Barcelona Activa) and Marta Aymerich Martínez (UOC Vice President). Presentation of the conference by Mayo Fuster Morell (Director Dimmons IN3 UOC).
Debate about European Regulation of Collaborative Economies
The European Parliament Bureau at Barcelona, in collaboration with Dimmons Research Group from IN3/UOC, organize a debate about the European Parliament Resolution on Sharing Economy, related with "Procomuns Forum of Public Policies Co-creation for a Commons-based Sharing Economy". This activity is outside the core program, it's free-access.
We counted with Nicola Danti, the rapporteur. Report of European Parliament on Sharing Economy
Maria Teresa Calvo Mayals (European Parliament Barcelona's Bureau chief), Karma Peiró (Nacio Digital newspaper director), Mayo Fuster Morell (Dimmons IN3 UOC & Procomuns), Francesca Bria – Chief Technology and Innovation Officer (Barcelona City Council), Albert Castellanos (Catalonia's Autonomic Government), Yochai Benkler (Prof. Berkman's Center, Harvard University), Guido Smorto (Dimmons IN3 UOC)
Debate: Public policies and regulation of the collaborative economy in Catalonia and Barcelona: What model do we need?
2017 is the year for the regulation of collaborative economies. The Catalonia's Generalitat is finalizing a process of characterization and regulation of the collaborative economy in Catalonia. Barcelona City Council has been working on a specific plan on commons-based collaborative economy. We discussed both actions, and to which extend they fit the reality and needs of the commons-based collaborative economy in Barcelona.
* Albert Castellanos (Economic Promotion, Competition and Regulation, Generalitat Catalunya)
* Álvaro Porro (Proximity economies, Barcelona City Council)
* Moderator: Nuria Valero (Lazzum)
City Challenges: Caring economies
To what extent do digital platforms and collaborative methodologies cover the field of caring? How can they be applied and can respond to the needs that exist in the field of the caring economy? Co-creation Dynamic.
Beatriz García (Dept. Time and Caring Economy, Barcelona Activa), Ester Vidal (Director of Services for Cooperative, Social and Solidarity Economy and Consumer Affairs), Sonia Ruiz (Director Gender Mainstreaming Unity. Barcelona City Council), Thais Lloret (FemProcomuns Coop.), Pia Mazuela (SmartIB)
Technology infrastructure and blockchain for a common collaborative economy
We drew the emergent tech challenges on which commons-based collaborative economy, and DECODE european project, discovering at last the Blockchain by different entrepreneus and experts.
Francesca Bria (CTO and Digital Innovation, Barcelona City Council), Enrico Stano (president CoopDevs), Astrid Baldissera (lawyer & co-founder, Starting Legal), Luis Cuende (Aragon co-founder), Dr. Jordi Herrera-Joancomartí (criptocurrencies expert, professor & coordinator of Informatics Doctorate Program at Escola d'Enginyeria UAB), David Proto (CreativeChain co-founder), Dr. Lluïsa Marsal (Blockchain4Cities researcher, UPF), Aleix Ripol (sociologist & co-founder of Barcelona Bitcoin Community). Moderator: Marc Rocas (Dimmons), Final remarks: Yochai Benkler
Labour, precariousness and collaborative economy: New trade unions and labour cooperativism
One of the most debated topics, lately, at sharing and contemporary economy, is around labour rights on new work modalities, specially at platforms, usually outside of the legal frames. At the same time, it's appearing new and old answers like work and platform cooperatives, and new kinds of union trades.
Adrián Todoli (expert in labour market and collaborative economy), Union RidersXDerechos BCN, Pia Mazuela (Smart IB), Monica Garriga (Free Knowledge Institute- FemProcomuns), XES. Moderator: Ricard Espelt (Dimmons)
Sources :