Understanding the Social Economy of the United States
Laurie Mook, Ann Armstrong, Univercity of Toronto Press, 2015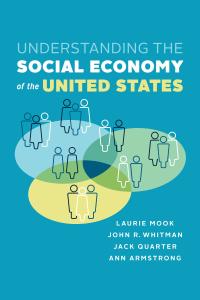 Understanding the Social Economy of the United States is a comprehensive introduction to the operation and study of organizations with social goals – public sector nonprofits, civil society organizations, social enterprises, cooperatives and other organizations with a social mission – under the rubric of the social economy.
This text is rich in examples and case studies that explain the social economy framework in the context of the United States. The book not only highlights the differences between these organizations and traditional businesses, but also provides applied chapters on organizational development, strategic management and leadership, human resources, finance, and social accounting and accountability in social economy organizations.
The perfect introduction to the social economy framework for students of nonprofit management, business, social entrepreneurship, and public policy, Understanding the Social Economy of the United States an invaluable resource for the classroom and for practitioners working in the social economy sector.