Food and the Cities. Politiche del cibo per città sostenibili.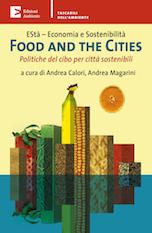 Dal 2008 più della metà della popolazione umana vive in città. Si tratta di un evento che non ha precedenti nella storia e che apre scenari nuovi anche per quanto riguarda la sostenibilità dei sistemi alimentari a scala locale, regionale e planetaria. Nei centri urbani si concentrano i maggiori consumi di cibo, ed è nelle città che si trovano i centri decisionali, le infrastrutture e le organizzazioni su cui convergono i sistemi alimentari dell'economia globalizzata.
Food and the Cities racconta le esperienze di diverse città nel mondo come Almere, Amsterdam, Bristol, Gent, Londra, Malmö, Melbourne, Milano, New York, Toronto, San Francisco, Vancouver e decine di altre città. Ciascuna di esse ha adottato politiche sul cibo articolandole in termini di governance, produzione locale, accesso, educazione, riduzione degli sprechi e degli impatti, promozione dell'agroecosistema, fino ad arrivare a vere e proprie strategie urbane per il cibo.
Con un'introduzione di Giuliano Pisapia, Sindaco di Milano, e una prefazione di Giuseppe Guzzetti, Presidente della Fondazione Cariplo