La Via Campesina.Globalization and the Power of Peasants.
Annette-Aurélie Desmarais, Fernwood Publishing, Canada., 2007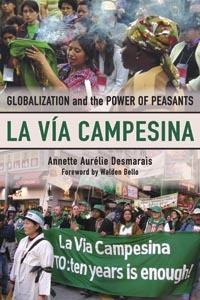 n 1993, 46 farm leaders from various countries met in Mons, Belgium, determined to develop a strategy to challenge the devastation caused to their communities by a neoliberal international economic agenda. Over the next decade they and millions of peasants and small-scale farmers around the world used La Vía Campesina to forge a powerful and radical force of opposition. Where did they find the capacity and strength to challenge multinational agribusiness corporations and international institutions whose power and influence increasingly dictate national government policy? This book accompanies La Vía Campesina in a struggle to keep people on the land, producing food and culture, and building viable communities.
Contents
Introduction: Where Have All the Peasants Gone—Long Time Passing"

Modernization and Globalization—The Enclosure of Agriculture

Peasants and Farmers Going Global

"The WTO… Will Meet Somewhere, Sometime. And We Will Be There!"

A Fine Balance: Local Realities and Global Actions

Co-operation, Collaboration and Community

Reflections on the Meanings of the La Vía Campesina