Extend vaccination coverage in Jogja, Indonesia
Sonjo Jimpitan – Indonesia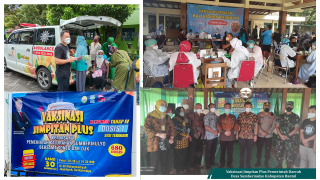 Social Solidarity Economy entity description:
The initiative aims to extend vaccination coverage to support 75% coverage as government expected. It is in Jogja, Indonesia.
The main beneficiaries are people living in remote rural areas especially seniors and people with disabilities
Sonjo is a member of Sambatan Jogja and the Asian Solidarity Economy Council.
Covid-19 context:
Vaccination needs to be done quickly to the community. However, the vaccination challenges faced by the Indonesian people are not easy. While at least 75% of Indonesia's 270 million population must be vaccinated, Indonesia's population is spread across thousands of islands. Even within one island, it is still divided into urban and rural areas, each of which has its own complexity in carrying out the vaccination. Mass vaccinations were initially carried out in urban areas, using conference halls or hotels, with online registration. However, the disparity in digital literacy in society causes this pattern to be less able to reach people in rural area.
General description of the Social Solidarity Economy initiative:
Sonjo is a community who voluntarily provides support to people in need during the pandemic. Bounded with solidarity, they encourage people to express their needs and their willingness to support others. Sonjo Jimpitan is an initiative to extend the government vaccination program as many people, mostly in rural areas, are still unvaccinated due to accessibility constraints.
Key actions / activities:
• Communicate the program through village chief's network.
• Assess and follow up incoming proposals from village government.
• Invite sponsors/ donors.
• Carry out vaccination of 1000 people per event.
Key partners:
Health workers from university, local volunteers, philanthropies.
Main results and impact:
The initiative has administered more than 40.000 doses of vaccines in the first 30 days of Sonjo Jimpitan.