Environmental Policy is Social Policy – Social Policy is Environmental Policy. Towards Sustainability Policy?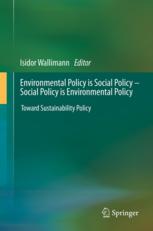 Increases the awareness that environmental policy has social policy type outcomes and is of direct relevance to social policy

Lays a foundation for reorganizing and merging social and environmental policy administrations

Provides a transdisciplinary approach and pursues to influence and advance the discourse on sustainability
If sustainability is our goal, social and environmental policy must be treated as one and the same field. Examples from Agriculture, Nutrition, Forestry, Urban Planning, Care Work, Tourism, and University Management show that such a paradigm shift is indicated, important, and timely. They also show that Environmental or Social Impact Assessments are no longer adequate. The new paradigm synthetically combines environmental and social policy. Not to do so leads to policy inefficiency and perverse effects. One policy domain may counteract or outright "sabotage" the other.
To synthetically combine environmental and social policy calls for a trans-disciplinary perspective to include both policy fields and academic disciplines. This is well illustrated by the contributors in this book who represent numerous academic disciplines. They help professionals and students appreciate the centrality of trans-disciplinary thought and practice in working toward sustainability.
Table of contents
Introduction.- Part I: Agriculture, Food and Forestry.- Where Environmental Policy is Social Policy: Nature, Food, Society and Metabolic Processes.- Protecting Food Security, the Rural Poor and the Environment: The Case of Climate Change Mitigation in Animal Agriculture.- Living off the Fat of Another Land: Trans Fat Social Policy and Environmental Externalities.- Forest Sustainability and the Social Context: Applying the Montreal Process Criteria and Indicators.- Forest Sustainability and Social Policy: The Role of Ecosystem Services.- Part II: Developing New Urban Spaces.- Sustainable Urbanism: Creating Resilient Communities in the Age of Peak Oil and Climate Destabilization.- Planning Sustainable Cities: Why Environmental Policy needs Social Policy.- Chinese Model Cities and Cancer Villages: Environmental Policy is Social Policy.- A Peek Over the Fence: Urban Agriculture as an Instrument of Social and Environmental Policy.- When Environmental and Social Policy Converge: The Case of Boston's Fairmount Line.- Part III: Work and Ecology, Tourism, University Management.- Social Policy is Environmental Policy: Paid Work, Unpaid Care Work, Gender, and Ecology.- Envisioning Environmental Policy as Social Policy: The Case of the International Cruise Line Industry.- Sustainable Universities: Rhetoric versus Facts.- Index.​