Civil Society, the Third Sector and Social Enterprise Governance and Democracy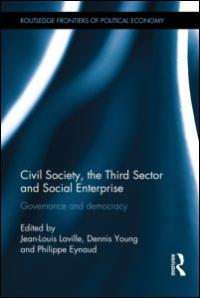 Civil society organizations are playing a key role in addressing global societal and ecological issues, often setting the agenda for public discourse. Therefore, at a time when they are becoming more varied and interwoven than ever, critical analysis of the governance of these organizations and networks, and their role in a democratic society, is particularly important.
This book addresses these challenges by revisiting concepts of citizenship, public participation, the democratic exchange of ideas, markets, co-construction and co-production of public services, and alternative political ideologies. The first part of the book focuses on internal governance and the economic dimensions of civil society organizations and analyzes the growing role of management models. The second part addresses the institutional dimensions and focuses on public spaces and the capacity of civil society organizations to resist, collaborate and negotiate with the state.
This book is unique in bringing together different visions and perspectives on civil society governance for the first time and will be of interest to an international audience of researchers and policy-makers.
Contents
Introduction to the book PART 1 Introduction Part 11. Civil society governance: hybridation within third sector and social enterprise domains 2. The future of CSO governance: Managerialism and beyond 3. CSO governance: More than just a matter of board 4. Governing boards and organizational environments: growing complexities, shifting boundaries 5. Civil society organization accountability within governance networks 6. Multi-stakeholder governance in Civil society organizations: model and outcomes 7. Two sides of the governance coin: the missing civil society link PART 2 Introduction Part 2 8. Rethinking the relationship between governance and democracy: the theoretical framework of the solidarity economy 9. Civil society and governance: Contemporary challenges 10. The Social and Solidarity Economy and Ostrom's approach to common pool resources: Towards a better understanding of institutional diversity? 11. Democratic governance and citizenship 12. Differing perspectives on Civil society and the State 13. Social management and para-economy: redefining the analysis of the associative fact 14. Theory of the social enterprise and pluralism: The social enterprise of the solidarity type