A guide to Social Return on Investment (SROI) (revised)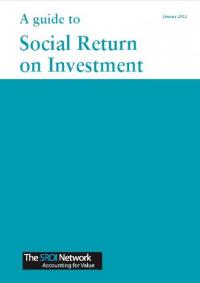 The 2009 guide was written by Jeremy Nicholls, Eilis Lawlor, Eva Neitzert and Tim Goodspeed, and edited by Sally Cupitt, with additional contributions from Sheila Durie, Jenni Inglis, Karl Leathem, Tris Lumley and Richard Piper.
Comments, guidance and advice were also received from the advisory group and from members of the SROI Network. Thanks to the following members of the SROI Network: Helen Fitzhugh, Adrian Henriques, Martin Kinsella, David Marshall, Kathleen Quinn, Kevin Robbie, Stephanie Robertson, Peter Scholten andSara Williams.