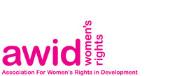 Association for Women's rights development (AWID)
Founded in 1982, the Association for Women's Rights in Development (AWID) is an international, multi-generational, feminist, creative, future-orientated membership organization committed to achieving gender equality, sustainable development and women's human rights. A dynamic network of women and men around the world, AWID members are researchers, academics, students, educators, activists, business people, policy-makers, development practitioners, funders, and more.
AWID today is a membership organization of over 5,000 men and women. Ten International Forums on Women's Rights and Development have helped to foster a community with common goals and diverse strategies. From its offices in Toronto, Mexico City and Cape Town, and other staff working from countries in different regions, AWID is working to continuously innovate, improve and internationalize its work to serve the needs of this growing community.
Uma publicação
Documento de análise/working paper/articulo
Mr. Verma examines the emerging notion of solidarity economy.

Manish Verma, junho 2003

AWID