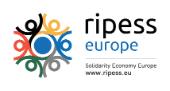 RIPESS Europe
RIPESS EU – Solidarity Economy Europe is a Network of networks and initiatives for the promotion of Solidarity Economy in Europe. It includes 40 sectorial, national and inter-sectorial networks in 16 countries. RIPESS brings thousands of concrete experiences that identify as solidarity economy together in Europe: self-managed productive cooperatives, solidarity markets, responsible consumption and food sovereignty, time banks, proximity services, environmental and ecological initiatives, financial alternatives (local currencies, ethical finance), structures for the promotion gender equity, innovative educational experiences, fair trade enterprises, local development associations and more.
Areas of work
Federate actors and organisations in solidarity economy to proote new ways of production, consumption, finance and exchange
Make networks, actors and solidarity economy experiences visible, both internally and externally

Develop the scope of the network by bringing together all European regions
Develop joint advocacy to promote solidarity economy in Europe and throughout the world
Build a shared vision and promote it to European Institutions
Encourage co-operation between members
Share experience and good practice

Develop and promote economic cooperation between networks and solidarity economy actors

Build joint projects and develop collective intelligence

Ensure convergence with social movement actors that contribute to building a democratic, equitable and environmentally just society that preserves the planet.
Actively Contribute to the social movement for "another world is possible"
23 Video
11 strumenti pedagogici
5 studi di caso
5 Documenti di analisi/working papers/articoli
4 Carte/Manifesti
5 Interventi pubblici
220 articoli
2 organizacione RIPESS & ODDs